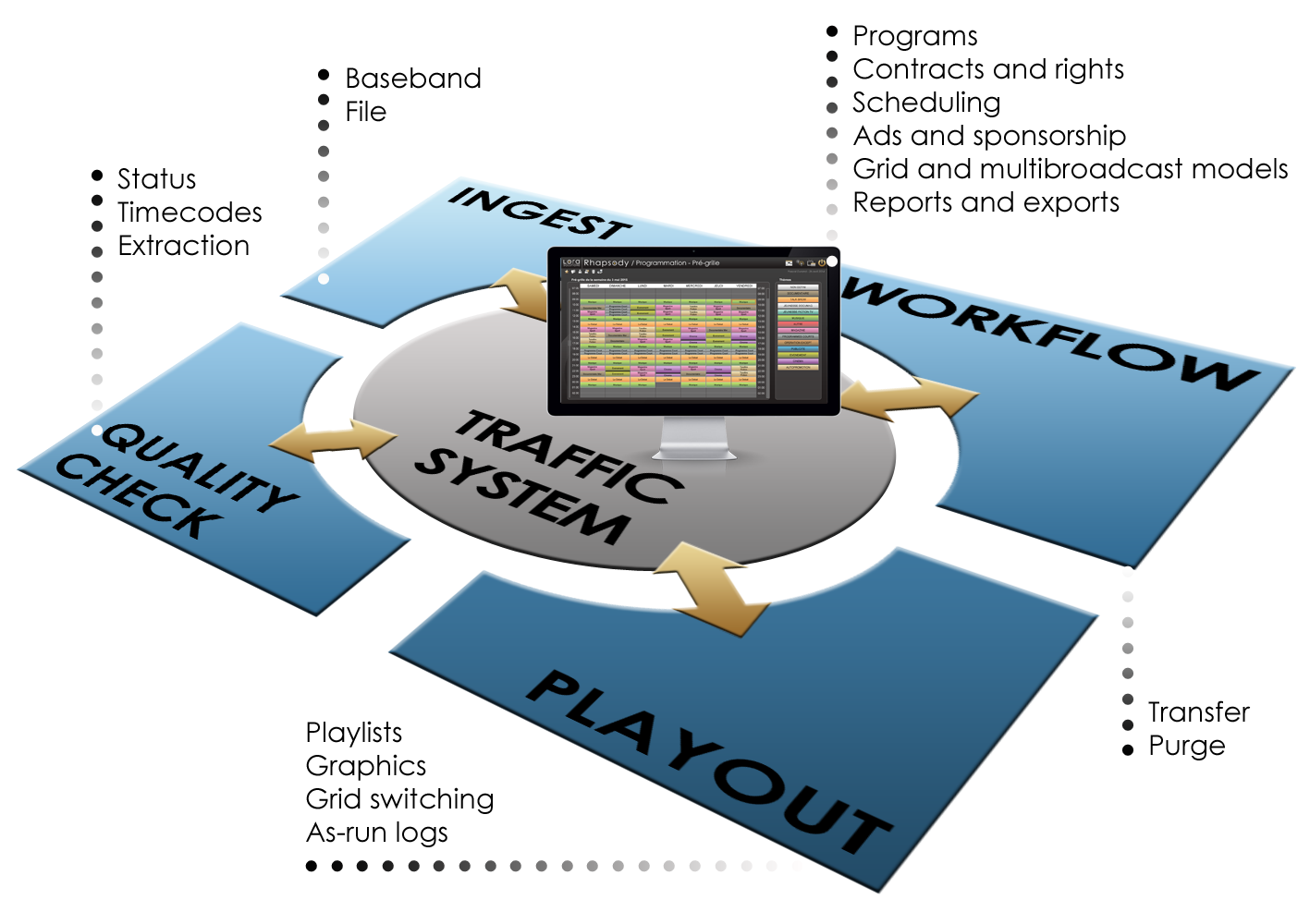 Our broadcast world is constantly changing: 20 years ago, the dematerialization of programs started, initiating the famous IT/broadcast convergence. As a result, technical limits are constantly being pushed back, and associated costs are decreasing.
This convergence allows all parts of a company to move towards modernizing, saving costs and best use of resources, by simplifying the processes of scheduling, monetizing, managing and publishing of their media assets.
It's up to you!
.
LORA Solutions
and
Harmonic Inc.
have combined their technological expertise to offer a comprehensive solution to customers looking for a complete scheduling/playout system. This allows broadcasters to adjust their own investment cursors, depending on their strategy, and on their human, financial and technical resources.
At the heart of the system is
LORA Solutions' Rhapsody
Traffic System and
Harmonic's Polaris Play
channel-in-a-box automation system.
Rhapsody
sends playlists via the BXF protocol to
Polaris Play
, a software application suite optimized for
Harmonic Inc.
's 1-RU
Spectrum™ MediaDeck 7000
integrated media server.
Branded playlists are automatically loaded and played by P
olaris Play
, with no need of any human interaction. Playlists are updated in real time, as soon as they are editorially validated. Both systems also exchange As Run logs to meet legal obligations.
2 RU of highly technological products
.
The Traffic System
Rhapsody
, that is to say the editorial world, takes the lead and controls directly the playout.
First, Traffic and automation systems will have to exchange information like ingest requests, tapes or lives, transfer and file ingest requests, for which everything can be fully automated.
Manual tasks, such as media and time-code validation, are also available. Furthermore,
LORA Solutions
developed a consistency check module, to check if the content on the video server matches the Traffic database, so any failure can be fixed.
The human resources of the company can thus concentrate on what allows the organization to increase its profitability.
Time and cost of implementation of new channels are drastically decreased. Operating and maintenance costs are also significantly reduced, while retaining the same functional requirements by reducing the number of required equipment, which may be limited to two 1RU servers, and preferring IP links.