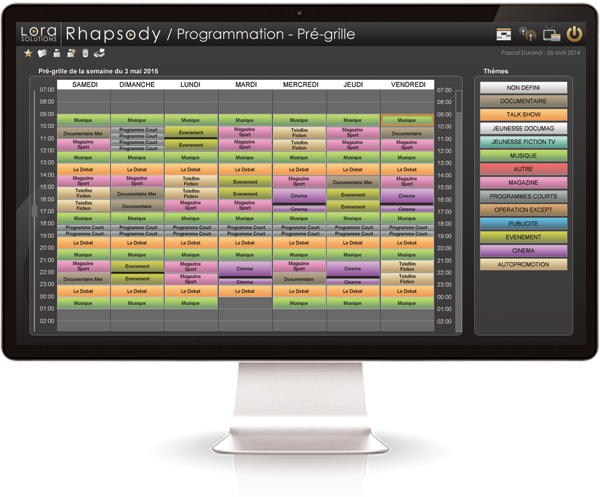 From the start of 2014,
LORA Solutions
has managed the development, maintenance and commercialisation of the Traffic Management solution used for more than 15 years by the French national broadcaster France Télévisions.
"We decided to highlight a product that has proved its worth and is still full of potential. We are now working to improve it, for today's and tomorrow's usages and to make it the heart of our customers' system: an interface between IT, technical, artistic and financial departments of a TV channel," said
Agathe Ogier, co-manager and sales manager of LORA Solutions
.
LORA Traffic Solution
allows TV channels to manage their catalogue of programmes and workflows, from purchase intentions and contracting to as-run logs, as well as centralising editorial, technical and contractual programme data.
"We have used the Traffic System of LORA Solutions since 1998," said
Raphael Metro, Project Coordinator at France Télévisions
. "It addresses many specific needs related to the nature of the network of our television stations: nine stations across three oceans and a Parisian centre, 10 channels broadcasting 24/7, partly from Paris, partly locally, sharing a centralised stock of programsme. It has evolved over the years to adapt to changing requirements and needs of our growing network."
Claude Schiffmann, director of resources and development for France Ô and Outre-Mer 1ère at France Télévisions
, added: "We trusted LORA Solutions for the maintenance and the evolutions on our traffic system and we do not regret it. Their interaction and involvement are qualities we can appreciate every day."
Read the article on TVB Europe
About LORA Solutions :
LORA Solutions was founded in December 2013. It offers software solutions and services for the audiovisual and broadcast industry.

About France Télévisions :
First French broadcaster, France Télévisions has five national television channels - France 2, France 3, France 4, France 5 and France Ô -, 24 regional offices of France 3, 9 overseas TV, 9 radio channels, and a full range of digital services. More information on www.francetelevisions.fr