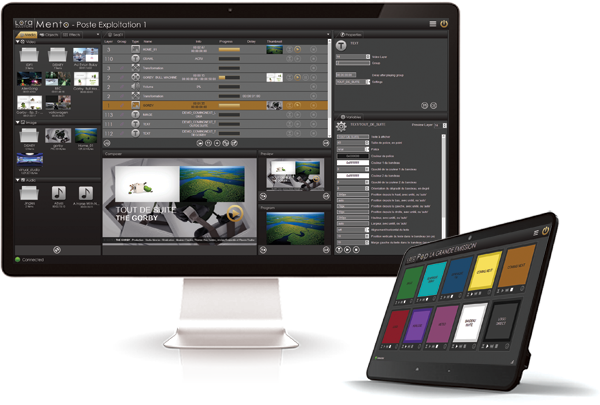 New feature ! Simply agregate your calls from

Because pictures you screen reflect your identity, programmes and channel branding is a key element to your overall strategy. It should looks just like you and push up imagination.
LORA Graphics Solution
relies on the most recent technology. It makes your imagination limitless and brings your programmes to life. Our resources are simple to use, ergonomic and adaptable to your needs. Get your ideas started with creative animation and picture-in-picture device, dynamic display of information. Achieve what you have not yet thought of. With
LORA Graphics Solution
, show off in high definition!
Why choosing LORA Graphics?
Prepare your graphics on a dedicated channel.
Preview your template and sequences, adjust your parameters, save your settings. Our tools are designed to make the preparation of your graphics easy.
One solution, multiple formats.
SD or HD, SDI, HDMI or IP, both input and output. The solution fits your choices. With the current trend of all-IP, why not multiplying your possibilities while controlling costs with IP graphics?
Interact with your viewers.
LORA Graphics Solution integrates a moderation tool for tweets, RSS feeds, Facebook posts or other dynamic information. Fully customisable templates are also available right now for you, so that you can display your information whenever you want.
LORA Graphics Solution, what's that?
LORA Mento : prepare your graphics on a dedicated channel
Preparation client with integrated preview
Graphical manipulation in real time
Creation and preparation of customised sequences and templates
Transformation and transition effects management
Ready-to-use components included
Control of graphics events directly on production channel

LORA Composer, included in LORA Mento
Graphic preparation of sequences and templates
Positioning and resizing objects and effects using drag-and-drop
Works with or without graphics server
LORA Pop : brand your programmes and your channels in a heartbeat
User-configurable software remote control
Instant broadcasting of templates or template sequences on one or several layers, on one or more channels
Post directly and simply on Facebook Live
LORA Bemol : interact with your viewers
RSS feeds, Facebook posts and tweets moderation using a web client
Direct interface with templates to automate broadcasting of the moderated data
LORA Monitor : supervise your system
Global and synthetic overview of all your servers
Monitoring though a web-based client interface
View of objects and layers loaded on each channel
Eject layer function for emergency
LORA Graphics, a full graphics solution designed to make your operation easier
Embeds an open source server and pro video cards
Support multiple inputs and outputs of both SD and HD to HD-SDI, HDMI and / or computer screens
Software-only solution able to manage multiple video cards in the same station
Multi-channel for broadcasting and previewing
Up to 9999 independent layers per channel
CII and REST interfaces for third-party systems
...
LORA Graphics was awarded the Satis/Mediakwest trophies in 2014 and 2015.