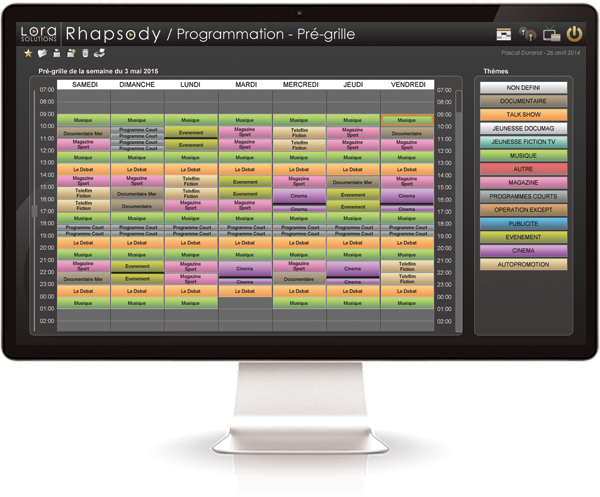 Making the most of your assets and audio-visual investment is both an operational and financial challenge: smooth and efficient managing of your programmes is a key to successful organisation and a guarantee towards profitability.
LORA Rhapsody
traffic system fits naturally into your organisation. It interfaces with your tools so that you can easily manage programmes catalogue, control workflows and costs, since purchasing up to broadcasting. It also makes cooperation easier with external organisations - press, suppliers, partners, customers, regulation authorities, audio-visual archives and rights management agencies.
LORA Rhapsody, what for?
Catalog your programmes
Centralise financial and legal information
Import/export editorial and technical data
Manage rights (multidiffusion, exclusivity, exclusion)

Schedule your playout
Prepare and send playlists for playout
Manage sponsorship and ads campaigns
Check as-run logs


Valuate your investments
Control costs and calculate depreciation
Increase profitability by optimizing the use of rights
Interact with external organisations (EIT, web, third-party systems, press…)
LORA Rhapsody, what does it do?
Contracts Management
Contracts and amendments centralisation and archiving
Linear and non-linear rights management: entry of general rights, per broadcast cycle, with exclusivity range…
Follow-up schedules, payment terms and invoices
Visualisation of costs, depreciation, acquired and available rights


Programmes Management
Programmes catalogue: works and episodes
Facilitating the input of data, data from mass run
Management of equipment and materials
Management of EIT depending on the distribution system
Checking of inter-programme compatibility and compliance checking with local regulations
Video previewing
Schedule Management
Pre-grid: help with weekly scheduling by theme
Models and multicast rules
Programming Grid: playlists preparation and interface with playout system
Advertising Management: scheduling in pre-grids, import of external Ad playlists, Ad quotas calculation, As run logs
Sponsorships Management: auto-matic programming on all broadcast cycles
Post-conductors Management, possibility of reconciliation with the compliance monitoring, extraction and sending to third parts


Costs Management
Grid costing
Calculation of costs relative to a programme (contract and work)
Management of purchased or available rights for each programme.
Optimising the use of your media assets
Why choosing LORA Rhapsody?
Functional benefits
A tool that fits any channel's type: premium, thematic, regional, local, music, news, and even bouquets.
Rationalisation, organisation of the acquisition process and programme management, keeping in mind their final use for transmission or delivery.
Ergonomic and user-friendly interface.
An opened system to equipment or external organisations : media management, playout system, external scheduling software, Ad sales system, export for press or broadcasting authorities
Technical advantages
Information stored in a single database.
Modular architecture.
Standard platform Windows 10, Windows 8, Windows 7 & Oracle database.
An overall solution
LORA Rhapsody traffic system makes it possible to manage the entire workflow related to programmes. From purchasing contracts to the scheduling of broadcast grids and asrun data's management.
It aims to facilitate the information's flow by centralising them in an overall system. It allows a multi-channel management with ability to manage different types of channels, each with their own features and management rights.