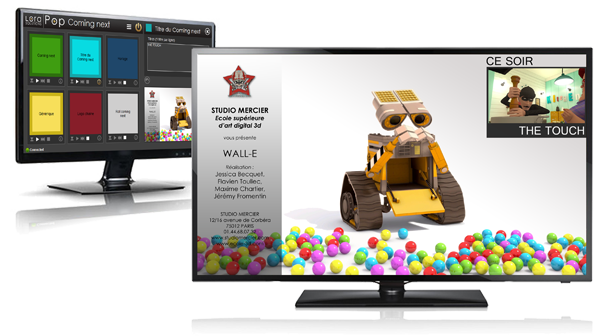 Looking for a custom turnkey solution for manually controlling the graphics on your playout or your production system?
LORA Solutions
helps you to set up your graphics and offers you a simple and effective operating tool. The
LORA Pop Solution
package includes:
development of your templates according to your corporate identity,
installation and configuration of the open source Caspar CG graphics server,
installation and configuration of LORA Pop control panels to put on air your dynamic templates and data,
technical assistance once you're on air, to support you if you need any change.
LORA Solutions
studies together with you your projects and your needs, and delivers a ready-to-broadcast graphics solution.
All-inclusive solution
Customised templates.
We prepare your HTML5 templates for you, according to your charter and your graphics. Together we define the data to be dynamic and implement the best solutions to give you flexibility and responsiveness.
Simple and ready-to-use tool.
Our control panels are installed and configured to fit your operational constraints and needs. Put on air or remove your templates by a single click. Change and apply your dynamic data in real-time.
Graphics server included.
CasparCG is a professional graphics and video play-out software, developed by the Swedish national public TV broadcaster SVT and is used for broadcasting their 7 national channels, 24/7 since 2006. It's an open source software provided and configured as part of our solution.
Control your costs.
The solution includes all the tools needed for manually controlling your graphics. It meets not only the needs of a live production or a backup system, but also those of linear broadcasting. We develop all your templates according to your requirements and thus avoid you additional costs of specialised or external resources. The system is installed on a desktop station or on a server that you can even provide yourself.
LORA Pop, what's that?
LORA Pop
is a software control panel for the operators to put on air or remove templates or template groups in a single click.
| | |
| --- | --- |
| | LORA Pop Pop is completely configured for your operating mode: panel label, buttons position and design, the templates they control… We prepare as many panels as you need: one per channel, per show, or per theme… it's up to you! |

Change the content on air
With the dynamic mode, LORA Pop enables you to manually change the editorial content of your templates, by typing or selecting your text in the dedicated field. Your changes take effect immediately, as soon as you click!
And then?
After starting, we remain at your disposal for technical assistance to maintain or upgrade your system or templates. You can rely on our availability and responsiveness.